Cosmic Shimmer Gilding Polish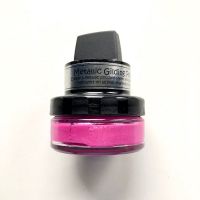 Creative Expressions Cosmic Shimmer Metallic Gilding Polish. This is a fabulous product which you can use in many different ways to add a beautiful metallic sheen and lustre to your craft projects. Gilding Polish is fast drying, water based and has a creamy, mousse like consistency it comes in a 50ml pot that also has a sponge applicator in the lid, so there is no need to spend time washing brushes and cloths when you change colours. The sponge makes for very easy application and blending, just load a small amount onto the sponge and buff it on to the surface to transfer it. The gilding polish can be used on any porous surface such as card, chipboard, mdf etc. As well as creating fabulous metallic background pieces you can use the polish to stamp with, you can apply it through a stencil and as it is water based you can thin it with water and apply it with a paint brush. The polish can be lightly sponged over card that has been dry embossed to add a sheen to the raised areas of the embossing for texture as well as colour and shine. There are a range of vibrant colours as well as classic gold, silver and pearl.
Please Note: Prime the sponge applicator before first use by wetting with warm, soapy water and squeezing out the excess. The sponges can be cleaned with warm, soapy water at any time.
Loading