With an enhanced barrel and cap design, you'll find that these markers are comfortable to grip whilst you are colouring. In sleek black plastic, with coloured lids that match the shade, these markers feel luxurious and refined in your hand.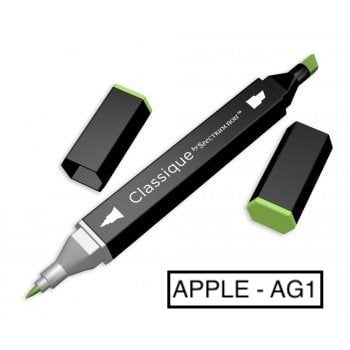 Japanese nibs are renowned for their durability and smooth performance, so each of the markers in this range has been dual-end equipped. At one end, you'll find a premium bullet tip for finer details, and at the other, a premium chisel tip for bolder swipes of colour.
As well as top quality nibs, these markers feature translucent alcohol dye, which can be built up for incredible, vivid colour or used across shades for seamless blending.
To extend the life of your Classique Markers, pair them up with the Alcohol Re-Inkers, which will help you to re-fill your pens with ease. Gone are the days of having to throw out your markers once it has dried up - simply re-fill and you're ready to go. This is a concept that is great for the environment and your bank balance!
Whether you're an art enthusiast or love colouring as a hobby, collect the whole Classiques range and see how it can transform your work.